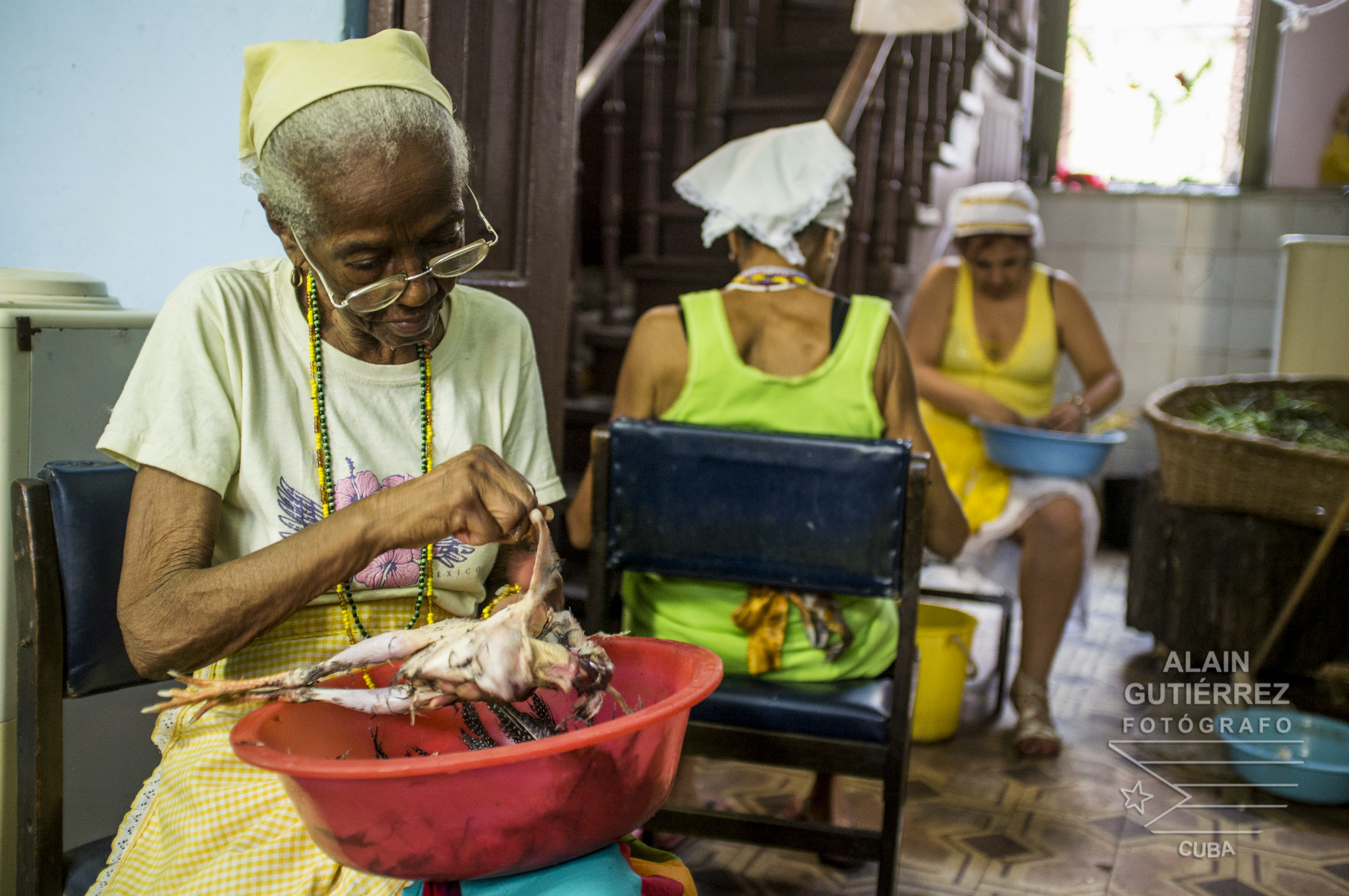 The proud to be Cuban
The proud to be Cuban. Jeofrey Gautier is not Cuban. He's 32 years old and he is French. I met him yesterday training in a boxing him. Is a big guy with his body full of tattoos and the biggest of all his tattoos is the National Cuban Shield. Jeofrey had been coming to Cuba oftenly since 2012 through a volunteer work brigade supported by the Cuban Institute of Friendship with the People, ICAP.
I didn't asked him why the tattoos and why to come to Cuba so oftenly the answer to that questions was in front of my eyes. He loves Cuba. I'm sure is the same feeling everywhere when a local realize that a foreigner loves his homeland. The proud to be what you are, the reconnaissance of your national values, the joy to be part of that, and the indescribable gratitude to the history who builted you and your roots is the biggest Grace you can get as a patriot. I always said to my son: If you don't respect your homeland you don't respect your mom.
National mammalian
National mammalian. That's the funny way how cuban define pork. Due to the difficulties to access beef and because pork had been popular all trough our culinary history, this meat is becoming the king of our table. Cuban who lives abroad always said they pork meat taste different here. True. The way cuban feed pork is special. We feed porks with the leftovers of our food or, in some places, with "corojo", the fruit of the Royal Palm, that give porks a particular flavor and rich on lard.
The letter of the Year
The letter of the Year. Every beginning of the year Cubans, regardless of their beliefs, await the prophecies of the Afro-Cuban religion. The Cuban Council of Senior Priests of Ifá and the Organizing Committee of the Letter of the Year Miguel Febles Padrón, after the corresponding religious ceremonies, advise for this year 2017:
To be humble and simple, to avoid arrogance, to watch over hygiene in all orders and to pay special attention to climatic phenomena.
It also encourages economic and socio-cultural changes among countries, encouraging work habits, paying attention to the possible proliferation of corruption and theft, and increasing attention to the education of children and the values f humankind.
Fariñas
Fariñas. Pedro Celestino Fariñas is well known as "El Príncipe de La Diana" in the cuban rumba environment. Why La Diana, I asked. What that mean? "Diana" is a rumba's Bogey, a hum, a musical sound that rumba singers made inbetween the stanzas. In November 2016 Unesco registered the Cuban rumba as a member of the Representative List of Intangible Cultural Heritage of Humanity. Fariñas is around 80 years old and still have the spirit and the force to dance and sing as a young man. The rumba's force is with him!
Honest Militancy
Honest Militancy. It is not uncommon to find a photo of Fidel or Raul in the neighborhood's most humble home. Sometimes you know that someone shows them in their business to shield what you owe or what you fear, but in many others one is amazed to find so much lackness along with a militancy and a fidelity proud and simple. And the common factor among all these poor people is that they are the most grateful of all to the Revolution and its leaders. They do not go to tear their clothes on the porche, and not do show off that verbiage so tiring and common in our core politicians. They just feel that way. (Adapted from an article by journalist Manuel Roblejo Proenza published in the digital magazine El Toque).
The legacy
The legacy. Last night Fidel from a portrait point to the people and looks to say: I did my part, now is your turn. For sure since a while ago is being the opportunity for the new generations to make Fidel's legacy better or to screw it off.
Le Roi est Mort! Vive Le Roi!
Le Roi est Mort! Vive Le Roi! The same day of Fidel Castro's burial, catholics and Afro-Cuban religious celebrate the Santa Bárbara or Changó's day. Changó, the warrior, with the red as identify color, was the king of Oyó, the Yoruba nation in Africa. Yesterday, December 4th, in the neibourhood of Párraga, Havana, where the Santa Bárbara's church is settled, hundred of Cuban gather up to celebrate and pray.
A new era
A new era. Since today the world will enter in a new stage when Trump assume the presidency. Some will live in a constant threat, other in the hope of built a new great America. People could imagine what is coming but nothing is sure. Meanwhile today start the Orange Alert.
Farewell
Farewell to the "dry feet, wet feet" USA Today has just announced that Obama ended the controversial law that has sent many Cubans to a migratory adventure at risk of their own life. This news will bring many joys and other pains, contradictions of life. I prefer that my compatriots remain alive.
New Times
New Times. Overcome the obsolete mentality, full of prejudices against foreign investment. That was what Cuban President Raúl Castro called in his speech at the National Assembly of People's Power. "We are not going to capitalism, but there must be no fear and no obstacles should be imposed on what it is possible to do within the framework of existing laws." Raúl said. Armando Ricard Batista was a boxer. Its peculiarly decorated house serves as a parking lot for motorcycles and space for singing boleros. The site is always open to visitors who take many photos. Armando recovers from an illness and spends a lot of time in a wheelchair. Despite all this, Armando is a fighter and still lives on the tips of tourists.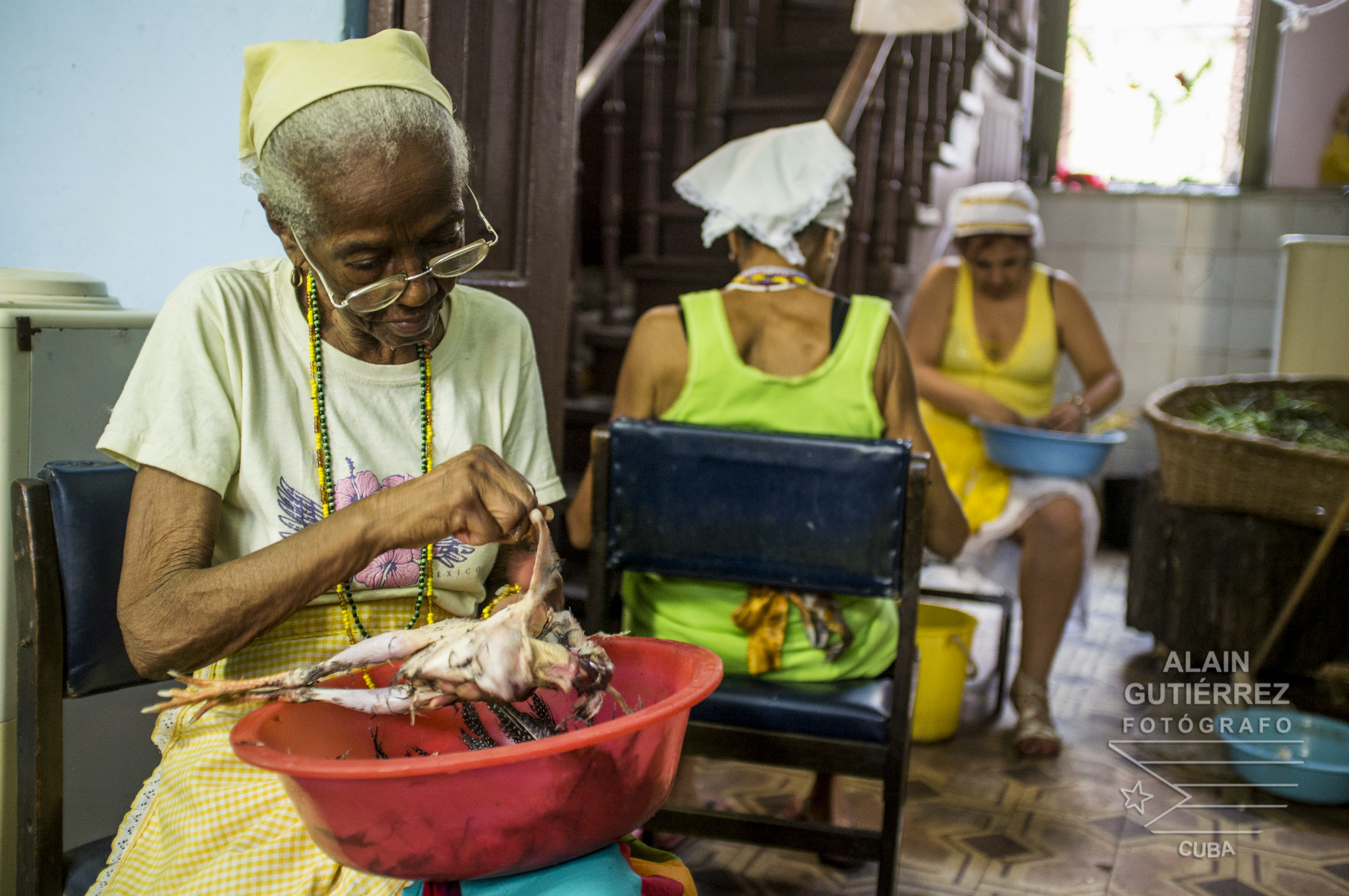 Centro Habana
Centro Habana. Women are preparing chickens to make a meal during the process of an Afro-Cuban religion ceremony in a babalawo's house. The number of people who make"Santo", what mean to get a higher compromise and get in deeper in to the religion, is increasing in Cuba. After the ceremony the person becomes in to "iawo or iyabó" and most dress in white for a whole year.
Devotees
Devotees. Yesterday, September 8th was the La Caridad del Cobre's, (The Holly Charity), day. Ochún in Afro-Cubanreligion join thousand of followers in Cuba and other places in the world. The Mambisa Virgin, as well is know becomes Cuba's Patron Saint and to love her is a tradition for cubans.
Faith
Faith. We Cuban are unstoppable mostly of the time. Why? We have faith. We always find a way or a solution in the middle of all our lackness. To be discouraged is not an actitud in our lives. Of course we trust in this band of brothers behind and over us. The Orishas.
Damn heat!
Damn heat! Is almost Octuber and is not refreshing in Cuba. My sister in Moscow is complaining about the cold, here we're melting. Usually some of my foreigner friends ask me about seasons in Cuba. I always have the same answer: "We're a country under blockade so we have this oven's heat all year long and only a few days of winter by donations".
Connectivity
Connectivity. "The good thing about Cuba is that there is no better, geographically situated, country than this one to connect to the Internet with good speed and quality, so that connecting Cuba to the Internet, as it should be, does not involve major technological challenges," says Brett Perlmutter Head of Strategy and Operations for Google Cuba. I wonder ETECSA, do we trust you?
Havana's Chinatown
Havana's Chinatown. Maybe here's the less Chinese population in all South America. Only a few buildings and restaurants, most of them offer Italian food, remind this neibourhood was a Chinese settlement. Nowadays the Asian root are vanishing into the Cuban culture. Some social projects are trying to rescue the Chinese heritage but without fresh inmigrantesthe risk of lose everything is a fact.
Cuban traditions
Cuban traditions could be desappear with this old generation if we don't get concience about it. Every familiy should pass their heritage to the new generation as a family treasure, as a national identity.